Accessible by Both Visually Impaired and Unimpaired
Starting in 2011, Obun has engaged in research and development of Braille and tactual printing based on UV varnish and UV offset technology. Specifically, UV varnish can add Braille and tactual information without losing the visual letters and images. This allows us to create printed material simultaneously accessible to both the fully sighted and the visually impaired.
Our UV offset technology allows us to rapidly fill large orders for printed products (such as calendars, instruction manuals, route maps, and facility maps) that support the daily life of the visually impaired. We are proud to use this print technology to help make information more accessible to the elderly and visually challenged, working toward a more inclusive society where everyone fits in.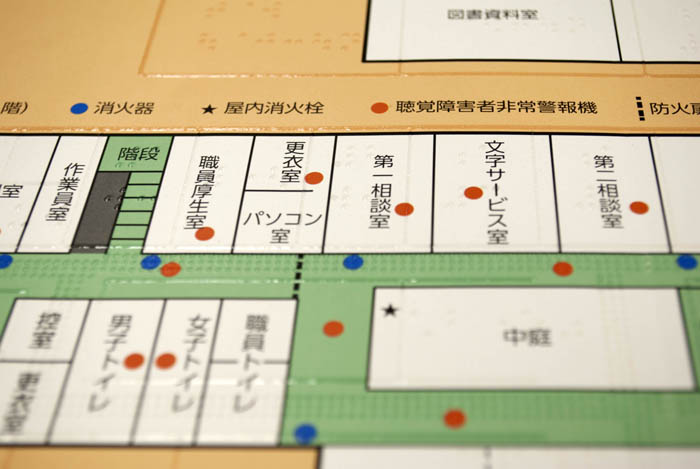 Features
Colorless transparent varnish allows text and images to be printed over without obscuring their visibility—allowing access to both the sighted and the visually impaired,
Adjustable point and line patterns and sizes greatly facilitate production of tactual maps.
More durable than paper-type Braille, with less wear and dirt.
Use of offset print technology greatly reduces production time, and allows for large production runs.
Voice data can be embedded in images. A single page can include color text, Braille, textual mapping, and voice support.
Support for Individuals with Low Vision
To support reading by individuals with uncorrectable poor vision, we can reduce glare by printing white-on-black, rather than conventional black-on-white. We can also adjust color contrasts and page composition to improve readability.
Video Introduction to Obun's Braille and Tactual Maps
Watch video of Obun's contribution at the Amedia Fair. (Includes audio.)
On Facebook…
Consider visiting us on Facebook for the latest news about our tactual maps and Braille.