Our online ordering system streamlines the process and greatly reduces the time it takes to order business cards for your employees.
Our online ordering system lets you set up and complete your entire order through your Web browser. You can enter, revise and recheck employee information, obtain approval from relevant managers, and confirm the price and the delivery date—all online.
This service eliminates the need for collecting original documents from employees and reduces the time required for proofing the cards prior to printing. The system saves time and effort both for the employees who need the cards and the person who orders them.
Easy, Intuitive Ordering System Can Be Mastered in Minutes
Control the whole order from your browser. Enter all the necessary data, view a preview of the finished appearance, revise and recheck as necessary, and confirm the delivery date. Anyone with even minor Internet experience will have no trouble making the order.
Immediately Preview the Finished Appearance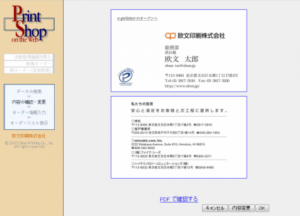 You can review and revise the final appearance before completing the order. The Obun server automatically typesets the data that you enter, using DTP software to adjust character alignment and spacing in accordance with your instructions. It then displays an exact preview in PDF format. If you are not satisfied, simply make the appropriate revisions and then look again. (Previewing requires Adobe Acrobat Reader.)
Support for Bulk Orders
Obun can fill the large orders that maybe arise when you relocate your office or undergo a major reorganization. With our deep experience in data entry, DTP, and automated typesetting, we can rapidly service business card orders for thousands of employees. We can work with text data from Excel files or from a database, or we can have our DTP staff input the initial data for you. If you suddenly need to fill a huge order in a short period of time, please turn to us.
We Can Work with Your Purchasing System
If you are using a purchasing system, we can customize the system for you so that it can connect directly to our online business card service.
Embossing and Barcode Printing
Embossed business cards make a strong impression. Skillful embossing requires specialized equipment and detailed quality control, and is still relatively rare in Japan. But our foreign financial company clients demand embossed cards for their employees, and turn to Obun for the solution.
Protection of Personal Information
Our rigorous information privacy policy ensures that all personal information you provide us will be protected from leakage and abuse.