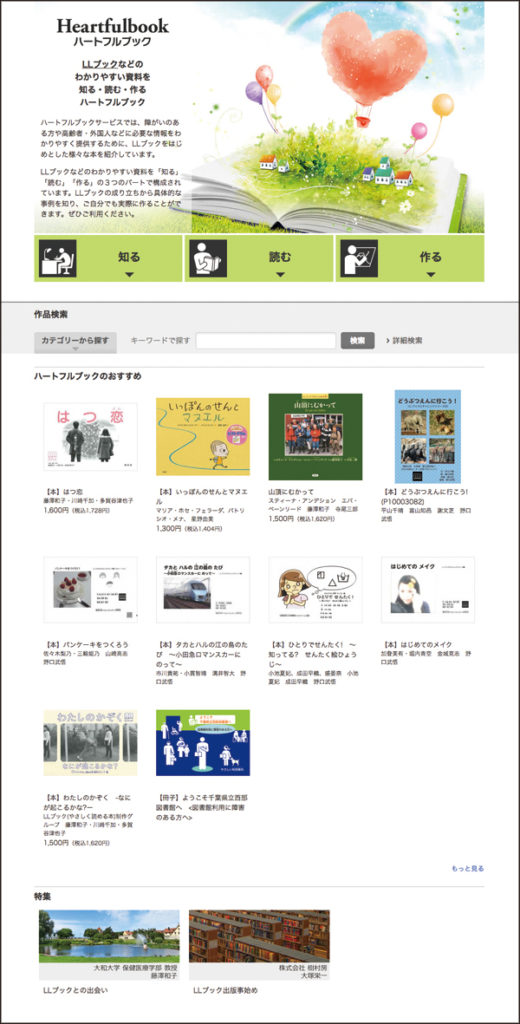 New Portal Site for LL Books…
We officially launched our Heartful Books portal on December 1, offering comprehensive browser-based services for LL books. These easy-to-read books are great for those who have difficulty with regular text—such as those who do are not native to the language, elderly readers, or those with other challenges. We expect demand for LL books to continue rising, and our portal is intended to increase awareness and use of these products. The portal explains the concepts, introduces some existing books, and lets you compose your own books. The portal is managed as a university-industry cooperative enterprise.
Heartful Books Site
(Steering Committee: Senshu University Journalism Dept.; Noguchi Laboratory; Obun Printing. Inc.; Kowa Computer, Inc.; Digital On Demand Printing Center. Inc.) 
What are LL books?
These easy-to-read books are for those who may have limited reading skills or may be non-native in the language. The text is very easy to understand, and is further supported by pictograms, photographs, and other visual aids. First introduced by Sweden about 50 years ago, these books are now popular around the world—with a growing list of titles becoming available in Japan.
See, Read. And Compose LL Books
This service consists of three parts: see, read and compose. All of these are free; Obun charges only for printing the book are you have composed it.
<See>
An introduction to LL books—background, structure, and examples.
<Read>
Introduces the LL books currently available, including out-of-print and unsold works. 
<Compose>
A set of tools that make it easy to compose your LL books, using pictograms and other elements. You can do this entirely from your browser, with no need for other applications. You can freely edit text, adjust image sizes, and more. Because we continue to add templates, the process is becoming even easier.
Pictograms…
These are images and graphics that present explanations pictorially, without need of text. In fact, we see these all around us—emergency exit pictograms, restroom icons, and more. A video of pictograms used by Tōyō Library can be viewed here: