Obun earned FSC/CoC (chain of command) certification on February 28, 2008. FSC inspection and certification—carried out by FSC-authorized institutions—is based on ten principles of forest management, including criteria such as economically sustainable management, protection of the rights of workers and indigenous peoples, appropriate work environment, and proper concern for "high conservation value forests" and biological diversity. The FSC trademark may be placed on wood products obtained from appropriately managed forests, letting customers know that, through their purchase, they are also indirectly supporting forest conservation.
FSC/CoC certification, in contrast, is granted not to products but to companies and organizations that maintain robust management systems capable of ensuring that all production, treatment, and distribution processes are appropriately controlled and involve no non-FSC-certified wood.
Obun uses FSC-certified paper, and can apply the FCS trademark to all printed products that use this paper.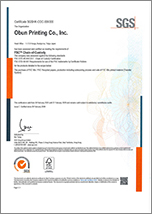 Registration No: SGSHK-COC-004300
Certification Date: 28 Feb. 2008
Certifying Body: SGS Japan Inc,
.width89 { width: 89px; } .width152 { width: 152px; }