Obun's Rewritable Paper merges the freedom of a whiteboard with the convenience of a paper sheet. Exceedingly useful in many environments, for many different purposes…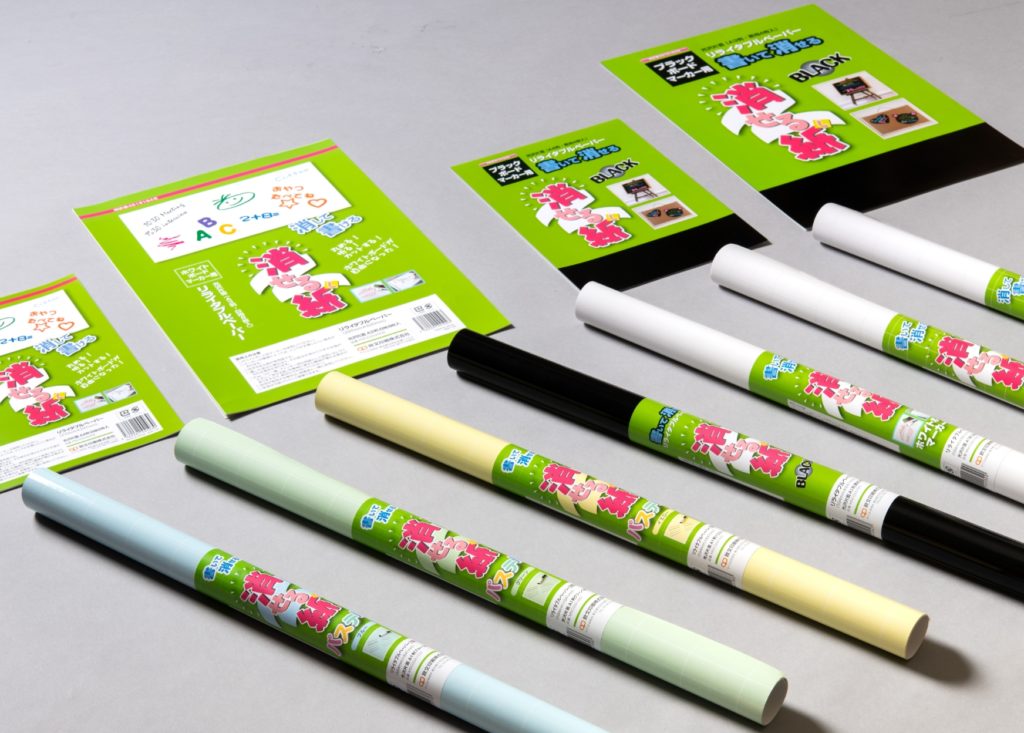 Erase and Rewrite with Complete Freedom
Rewritable Paper is a paper sheet with a whiteboard-like coating. Write on it with a standard whiteboard marker, and you can erase and rewrite as often as you like. Unlike a whiteboard, Rewritable Paper is lightweight, portable, and cuttable.
Multiple Uses
As a replacement for a conventional whiteboard
Have you ever felt inconvenienced when holding a meeting in a room without a whiteboard? Rewritable Paper solves your problem. A single A1-size sheet (594 x 841 mm; 23.4 x 33.1 inches) serves as an excellent whiteboard replacement. Weighing a mere 54 grams (1.9 oz.), the sheet can easily be taped or pinned almost anywhere on a wall or partition.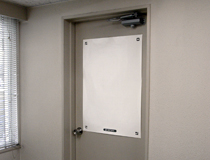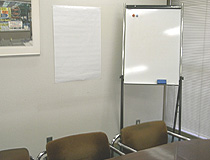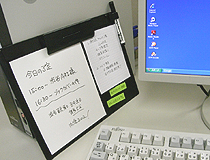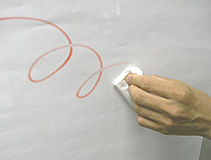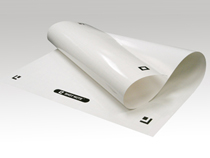 As an alternative for paper vellum at universities and research centers
Paper vellum is inexpensive, but it is not reusable. Make an error, and you must start all over again on a new sheet. With Rewritable Paper, you can correct your errors on the spot, and you can reuse the sheets as often as you wish. You can also cut the sheets into any appropriate sizes and shapes.
While ideal for posting research results at universities and other institutions, Rewritable Paper can also serve as a great play-and-study tool at preschools and elementary schools.
For office posters and POP displays
Excellent for posting sales targets and other internal information at the office. Also great for POP displays in stores.
Features
Lightweight and portable
An A1-size sheet (594 x 841 mm; 23.4 x 33.1 inches) weighs only 54 grams (1.9 oz.). Easy to tape or pin onto walls and partitions.
Requires no special equipment. Can be used anywhere.
Easy to cut and shape
Cuts into any shape using scissors or cutters.
Myriad uses—limited only by your imagination.
Environment-friendly
Consists of common paper with special coating.
No toxic chemicals used in manufacture.
Easy to store
Even the largest (A1-size) sheets can be rolled and stored in tiny spaces. (Product is also available in smaller A3 and A4 sizes.)
specifications
| Size | Sheets per Set | Model No. |
| --- | --- | --- |
| A1 (23.4 x 33.1 inches) | 5 | 609456295383 |
| A1 (594 x 841 mm) | 2 | M5CGSA1W02 |
| A4 (210 x 297 mm) | 8 | PNCGSA4W08 |
Optional Feature: Original Printed Designs
Because we use our printing plant facilities to manufacture this product, we offer the option of printing custom designs on the surface during the production process. You can add your company logo, or you can cover all or part of the sheet with a made-to-order pattern. Colors may be freely selected. Please contact us for details.
Proper Use…
Please use whiteboard markers when writing on this product.
Not all markers work equally well; some types may smear.
Write on the glossy side.
Try not to touch written areas. Touching may cause smearing, erasure, and transfer of marker ink to hands or clothes.
Do not use as a print medium in copiers, fax machines, or printers.
Never feed through machinery. May cause mechanical damage if passed through a machine.
Usage by children should be supervised.
Dispose of as combustible waste.